Welcome to the first ever weekly show hosted by Gunslinger Gaming!
Every week, the group comprised exclusively of older gamers is hosting a retro show. It is broadcasted live on Twitch.tv and then uploaded, in its entirety, on
our official Youtube Channel
. Be sure to subscribe to it so you know when new episodes are published.
Each episode showcases a different game, some classic and some forgotten, ranging from the Atari 2600 era to the yesteryear of console gaming. The episodes are roughly an hour long (
give or take
) and features live commentary, which interacts with viewers.
NEXT EPISODE
Title
: Dragon Quest Swords: The Masked Queen and the Tower of Mirrors
Platform(s)
: Wii
Original Release Date
: February 19, 2008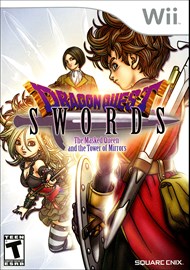 Broadcast Schedule
:
| | | | |
| --- | --- | --- | --- |
| Time Slot | Date | Show Name | Host |
| 6pm Pacific | August 11th | From the Gallows | McMurphy |
A broadcast table has been assembled to encourage exposure for other Gunslinger members who stream live shows. A member can private message me (
McMurphy
) his/her interest in scheduling a time slot in the broadcasting schedule. You will be given the key to the Gunslinger Gaming Twitch account so your show is run on our channel. Let me know the date and time you wish to broadcast your own show. By all means, also use your hour to promote your own Twitch Channel in effort to grow your own viewership!
Thank you for reading, and I can't wait to explore this new feature of GS* with all of you!
[
If you haven't found it already, you can see what all our members are broadcasting by visiting our Live Feeds page.
]
Episodes Thus Far
: