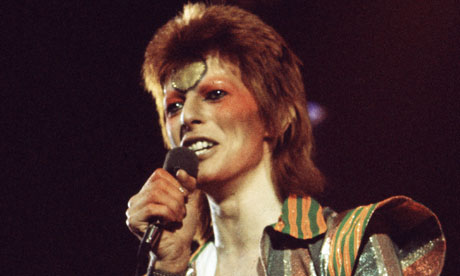 Miiverse Community for the GS* Bar League
:
https://miiverse.nintendo.net/titles/14 ... 3331491656
That is right! It is Week
SIXTY-SEVEN
of the GS* Bar League! The world lost a timeless legend of an artist this week when David Bowie passed away. His influence on the arts have transcended mediums, generations, and genres. That is why, this coming Friday, the MK8 Bar League returns with a special David Bowie theme! Join us in our
David Bowie event
! Show up with your Mii masqueraded as David Bowie! If you need help building a Bowie Mii, here is a good source:
http://www.miicharacters.com/?_form=sea ... earch=Find
Raffle
! We are also hosting a raffle for the Bar League event.
Anyone who participates in the David Bowie MK8 Bar League event is automatically placed into a raffle for a chance to win a David Bowie digital album of their choosing
! It doesn't matter how well you do in the races because everyone is entered into the raffle based on participation. The overall race winner will be crowned with the ever "respectable" title of Keeper of Das Boot with its custom forum icon, however.
Double your chance to win the raffle
! You can have your name entered into the raffle TWICE by changing the Mii associated to your NNID account to Bowie or Ziggy during the event. Just remember to keep the Mii name as your handle so we know who everyone is for the raffle. If your Mii shows up in the tournament's resulting leaderboard, you will have double the chance of winning the raffle!
Good luck & see you all this coming Friday!
Welcome to the Shellslingers Mario Kart 8 Bar League!
A rather "infamous" feature at Gunslinger Gaming during the Wii generation was the weekly Bar League where members race to be crowned the "Keeper of Das Boot" and be given a special forum rank. Thanks to Nintendo providing a convenient in-game Tournament feature for
Mario Kart 8
, the quest to be the keeper of Das Boot is back! Please read the following information to learn how to participate, goals, and the event rules. Cheers!
CURRENT KEEPER OF DAS BOOT

:

ShaX

CURRENT TOURNAMENT CODE

: [See top of

MK8 Master List

]

CURRENT TOURNAMENT DATE/TIME

: January, 1/15/16; Friday @ 5pm Pacific/7pm Central/8pm Eastern/1am GMT

CURRENT MII THEME

:

David Bowie

CURRENT WEEK TOURNAMENT SETTINGS

:

Mode: Racing; 150cc
Tracks: All
Teams: No
Items: All
Vehicles: All
Control Methods: Any
COM: No COM
Race Count: No Limit
Race Duration: 2 Hours
Group Shuffling: Off
Tournament Information and Rules
:
General Point
:
Registered members of the Shellslingers race in a weekly, Frosty Pints-themed tournament using the Mario Kart 8 in-game tournament feature. The member with the most race points at the end of the tournament is given a Bar League custom rank and icon to show the fact that he/she is the current winner, otherwise known as "
The Keeper of Das Boot
." The tournament settings change every week, and a new funny Mii theme is attached.
Goal
:
Winning each weekly round results in the GS*Forum rank, "
The Keeper of Das Boot
," and is accompanied with the following icon next to the person's username:
Winning isn't everything. This is a Frosty Pints event, after all. We will be laughing it up on Voice Chat and showing up some silly Miis that will earn some chuckles in highlight videos.
How to Participate
:
Register in the Gunslinger Gaming Forums.
Post your NNID in our Mario Kart 8 Master List.
Reply to this topic prior to start time to confirm your attendance and be guaranteed a spot.
Add the Tournament Code found at the top of said Master List.
[Optional] Check the Mii theme and make a funny Mii relating to it.
Race! Have fun!
Post your good times and share highlight videos in this topic at your leisure.
We are adding a twist to when someone successfully defends his/her title
. Should that happen, the Keeper of Das Boot gets to issue a decree. Meaning, he/she can choose the settings of the following week's match to in effort to continue his/her reign on the beer throne. The defending Keeper of Das Boot has 48 hours to post in the the topic otherwise he/she opts out of that ability. If we have a three-time repeat winner, the racer who came in last place will choose the following week's settings.
Rules
:
Please do not share the Tournament Code to anyone who is not a Shellslinger member. If you have an odd Mii name, be sure to let us know who you are; otherwise, we can't award someone a winner if we don't know his/her identity. We want to accommodate everyone, yet we want to event to run smoothly. Because of this, making additional race rooms after the tournament is open may not always be possible. This limitation may affect people who do not sign up ahead of time or show up late. Do not take the competitive aspect overtly seriously. Really, we are finding an excuse to meet up and race together at the same time during Frosty Pints.
Guide on changing Miis connected to your NNID, including a link to a cool Mii making site
:
viewtopic.php?f=5&t=18795&p=210678
---------------------------------------------------------------------------
RESULTS OF LAST WEEK'S TOURNAMENT
[
Winner: ShaX
]
Reference
:
| | | | |
| --- | --- | --- | --- |
| Week | Date | Settings | Winner |
| Sixty-Seven | 1/15/16 | 150cc, "David Bowie" | ShaX |
| Sixty-Six | 11/13/15 | 150cc, "Friday the 13th, Part III" | vhr2121 |
| Sixty-Five | 8/26/15 | 150cc, "Wizards" | Balki |
| Sixty-Four | 8/19/15 | Frantic, Battle, "Annoying Actors" | Crinklepouch |
| Sixty-Three | 8/12/15 | Frantic,Tilt Controls, 200cc, "Sitcom Characters" | ShaX |
| Sixty-Two | 8/8/15 | Frantic,Karts Only, 200cc, "Monster Trucks" | ShaX |
| Sixty-One | 7/31/15 | Mirrored,Bikes Only, "Gunslingers" | ShaX |
| Sixty | 7/24/15 | 200cc,No Items, "Iwata" | ShaX |
| Fifty-Nine | 7/17/15 | 150cc,"RPG Characters" | ShaX & vhr2121 |
| Fifty-Eight | 7/10/15 | 150cc, Tilt Control Only, "MikeyFromSantee" | Crinklepouch |
| Fifty-Seven | 7/3/15 | Battle Mode, "Dictators" | Crinklepouch |
| Fifty-Six | 6/26/15 | 100cc, Original Tracks Only, "80's Icons" | ShaX |
| Fifty-Five | 6/19/15 | 150cc, All Tracks, "Jurassic World" | ShaX |
| Fifty-Four | 6/12/15 | 100cc, Bikes Only, All Tracks, "Goonies" | ShaX |
| Fifty-Three | 6/5/15 | 150cc, Frantic, All Tracks, "Corrupt FIFA" | ShaX |
| Fifty-Two | 5/29/15 | 200cc, Bob-Ombs Only, All Tracks, "Squids" | ShaX & MikeyFromSantee |
| Fifty-One | 5/22/15 | 200cc, Team, All Tracks, "Mad Max" | Grouphands |
| Fifty | 5/15/15 | 50cc, Frantic, Tilt Control Only, All Tracks, "TMNT" | Grouphands |
| Forty-Nine | 5/8/15 | 200cc, All Tracks, "Aengers" | Grouphands |
| Forty-Eight | 5/1/15 | 150cc, DLC Only, "Famous Spies" | Robosaurosaur |
| Forty-Seven | 4/24/15 | 200cc, DLC Only, "MK8 DLC Characters" | Robosaur |
| Forty-Six | 4/17/15 | 150cc, Frantic, "Junk Food Icons" | ShaX |
| Forty-Five | 4/10/15 | Battle, Frantic, "Famously Cool" | McMurphy |
| Forty-Four | 4/3/15 | 150cc, Frantic, "Favorite Actor" | ShaX |
| Forty-Three | 3/27/15 | 150cc, Team, "Seinfeld" | ShaX |
| Forty-Two | 3/13/15 | Mirror, "Famous Authors" | ShaX |
| Forty-One | 3/13/15 | 150cc, "Friday the 13th, Part II" | ShaX |
| Forty | 3/6/15 | 100cc, "Leonard Nimoy" | Balki |
| Thirty-Nine | 2/27/15 | Battle Mode, "Game of Thrones" | Crinklepouch |
| Thirty-Eight | 2/20/15 | 150cc, "The Office" | ShaX |
| Thirty-Seven | 2/13/15 | Franatic, 150cc, Mirrored, "Friday the 13th" | ShaX |
| Thirty-Six | 2/6/15 | Franatic, 100cc, "Comedians" | ShaX |
| Thirty-Five | 1/30/15 | Bikes Only, 100cc, "Mascots" | Balki |
| Thirty-Four | 1/23/15 | Karts Only, 150cc, "Animals" | ShaX |
| Thirty-Three | 1/16/15 | Mirrorred, "Circus People" | Balki |
| Thirty-Two | 1/9/15 | 150cc, "'80s Hair Bands" | ShaX |
| Thirty-One | 1/2/15 | 100cc, Tilt Only, "Baby New Year" | CrinklePouch |
| Thirty | 12/26/14 | 100cc, "Christmas" | ShaX |
| Twenty-Nine | 12/19/14 | Battle, "Muppets" | vhr2121 |
| Twenty-Eight | 12/12/14 | All Tracks, 150cc, Mushrooms Only "90s Pop Culture" | ShaX |
| Twenty-Seven | 12/05/14 | All Tracks, Team, Frantic, 150cc, "Famous Fighters" | Radicre |
| Twenty-Six | 11/28/14 | All Tracks, 100cc, "Freddy Mii" | Radicre |
| Twenty-Five | 11/21/14 | All Tracks, "Smash Bros Characters" | Radicre |
| Twenty-Four | 11/14/14 | DLC Only, "DLC Characters" | Topcat |
| Twenty-Three | 11/7/14 | Bikes Only, "Comic Strip Characters" | vhr2121 |
| Twenty-Two | 10/31/14 | Karts Only, Shells Only "Scared Shitless" | ShaX |
| Twenty-One | 10/24/14 | Mirror, "Monsters" | bigfreddy |
| Twenty | 10/17/14 | 100cc, Frantic, "Creepy Dolls" | Topcat |
| Nineteen | 10/10/14 | 100cc, "Zombie Miis" | McMurphy |
| Eighteen | 10/3/14 | Tilt Controls Only, 150cc, "Famous Drunks" | MikeyFromSantee |
| Seventeen | 9/26/14 | Mirror, "Human Train Wrecks" | vhr2121 |
| Sixteen | 9/19/14 | Battle, Frantic, "80s Cinema" | MikeyFromSantee |
| Fifteen | 9/12/14 | 150cc, Bikes Only, "Villians" | vhr2121 |
| Fourteen | 9/5/14 | 100cc, "Futurama" | Smokey2444 |
| Thirteen | 8/29/14 | 100cc, Frantic, "Family Guy/Simpsons" | bigfreddy |
| Twelve | 8/22/14 | 100cc, Team Racing, "South Park" | vhr2121 |
| Eleven | 8/15/14 | Battle mode; 100cc, Karts Only, "Cartoons" | mikeyfromsantee, Pokemonfan111, vhr2121 |
| Ten | 8/08/14 | 100cc, Bob-ombs Only, "Video Game Characters" | bigfreddy |
| Nine | 8/01/14 | 100cc, Shells Only, "Musicians" | MikeyFromSantee |
| Eight | 7/25/14 | 100cc, Frantic, "Famous Starlets" | vhr2121 |
| Seven | 7/18/14 | Mirrored, Mushrooms only, "Annoying Hippies" | bigfreddy |
| Six | 7/11/14 | 150cc, Frantic, Bikes Only, "Super Heroes" | bigfreddy |
| Five | 7/04/14 | Mirrored, Karts Only, "Patriotism" | JonasN |
| Four | 6/27/14 | 150cc Tilt Controls, "Drunken Mii" | vhr2121 |
| Three | 6/20/14 | 50cc, "Geriatric" | vhr2121 |
| Two | 6/13/14 | 150cc, Mirror, Frantic, "Horror movies" | Lever |
| One | 6/6/14 | 100cc, "Famous '80s icons" | Houndstooth |